Network Monitoring and Analyzing Tool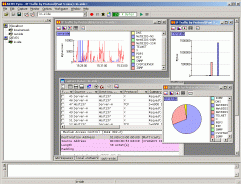 ASTEC Eyes on the net

(ASTEC Eyes) is a network analyzer (sometime called LAN analyzer or protocol analyzer), effective and suitable for the network management.

ASTEC Eyes

helps you to analyze and obtain the network management information with intuitive and simple operations by visualizing the traffic statistics from various useful view points. The state of the art stream view, easy host management functions, and user-friendly filters are the distinguishing features of

ASTEC Eyes

.
---
Stream View for Effective Decoding of Application Layer

Reassembles the virtual TCP stream

which may be fragmented in terms of application data. This enables more effective decoding and visualization of the application layer packets.

User-Friendly Convenience Filters

Extracts the packets you want to look at

easily with interactive operations

, without using logical expressions.

Interactive Traffic Breakdown

With

ASTEC Eyes

, you can display the breakdown of the specific traffic segment shown in a chart. When the network is crowded, you can further display the breakdown of the most significant portion of the traffic, e.g.,

which hosts and/or what applications constitute it

.

Standard List Price (Version 1.2)

ASTEC Eyes (Basic Package)

198,000 JPY (Japanese Yen)

per 1 license
approximately US$ 1,800

Remote Module

75,000 JPY

per 1 license
approximately US$ 680

Shipping and handling will be charged.
Request the quotation for the volume discounts and site licenses.
---

Rworks, Inc.
Iidabashi Bldg.
1-18 Agebacho, Shinjuku-ku, Tokyo 162-0824, Japan
E-mail: info@asteceyes.com